Maximize your space
One of the biggest staging mistakes is not maximizing the space that you have. This is especially true when it comes to living rooms — a place in the home where people usually spend a lot of their time. What this means is you want to show off everything that this space has to offer and really highlight all of its desirable features.

One of the main ways you can achieve this is with your furniture. The first thing you're going to want to make sure of is that there isn't too much furniture for the size of the space you have. This is because you want people to see the living room itself. They should be able to picture nights spent watching movies on the couch, hosting friends for coffee, and relaxing in a space all their own. When there is too much furniture in the room, it makes it challenging for your potential buyers to visualize this.

To create the appearance of more space, try positioning your furniture away from the walls. Many think that positioning the furniture against the wall itself will make a room look more spacious, but it's actually the opposite! Having the furniture floating also makes it look closer together, which is better for people to socialize and have conversations in. Another way to maximize your space is to make sure you're showing off your living room's absolute best features. For example, if you have beautiful large windows that let in natural light, make sure to show them off by not having anything hiding them and letting the sun shine through.
Find your focal point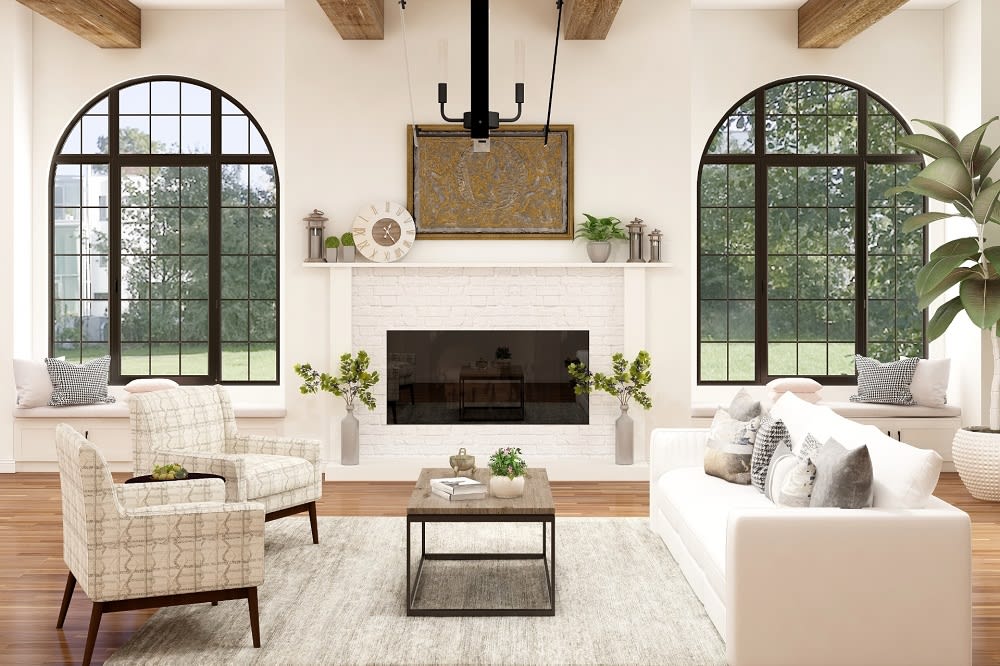 Similar to maximizing your living room space by showing off the best features, you should look for a focal point in your living room. This point should be the most attractive place or feature in the room to potential buyers — a fireplace, French doors, or a picture window are common options. After you have chosen this point, you can stage your living room in a way that draws people's eyes to this spot in the room to highlight that feature. People will notice it even more than they would have before, and they will appreciate the living room as a whole more in the process.

For example, if you have a fireplace, you can make this the focal point by having the furniture surround and face it and adding a piece of artwork above it. If you don't think your living room has a specific focal point already, you can even create your own. This could mean adding a piece of furniture that stands out or mounting a large, eye-catching painting.
Tidy up and organize
Because you've been living in it, your living room might not always be the tidiest and most organized space all the time. But when it comes to staging it to put on the market, you're going to want to make sure it's sparkling clean and that it looks and feels open and fresh. A clean, open space is a lot more appealing to potential buyers.

You'll want to make sure that the floors are vacuumed or washed, and you'll want to make sure that there is not anything laying around, whether it's magazines or any other items. If you have any bookshelves, you'll want to clear them — surfaces shouldn't have too many items on them and should be clean and organized. Coffee and side tables should be bare other than perhaps some accessories that intentionally tie into the room's decor.

While cleaning and organizing might seem like a simple task, it's very important and can be easy to overlook! You should also remove any personal items that may be in the room, including family photos, hobby items, or personal collections. This is because when people are looking for a potential home, they want to be able to picture themselves living in it. Generally, in living rooms, you might have pictures of your family, your pets, or other personal items around to decorate, but it is best to put them away in staging.

All of these tidying up and organizing tips will not only help potential buyers picture living in that space, but it can also help the room look better from an outsider's perspective.
Make the room neutrally appealing
When staging a home, you want to try to appeal to as many buyers as possible to get the quickest possible sale. One thing you can do to help this is by going neutral where you can. In your living room, this just means perhaps using lighter colors on the wall, such as white or cream, and furniture that isn't too over-the-top and glaring. Another tip is after going neutral to add a little bit of color to make the room pop. This could be a couple of pieces of artwork on the wall, a rug, the color of your throw pillows. You name it — just something that adds a bit of style and brings an eye-catching quality to the room. This helps to keep the room interesting and palatable to those who walk through it and ensure that your living room doesn't end up looking bland or boring.

Don't forget the walls! Blank walls can feel drab, but dressing them up is an easy way to incorporate accent colors. You can continue to incorporate these colors in any of the accessories and decorations you put out. Another thing you can do to make the room look good is adding fresh greenery or fresh flowers, if they go with the colors of your living room, of course. It can add life to the room and just feel fresh. There are so many ways to make your room palatable and nicely decorated in a way that appeals to many buyers.
Don't forget lighting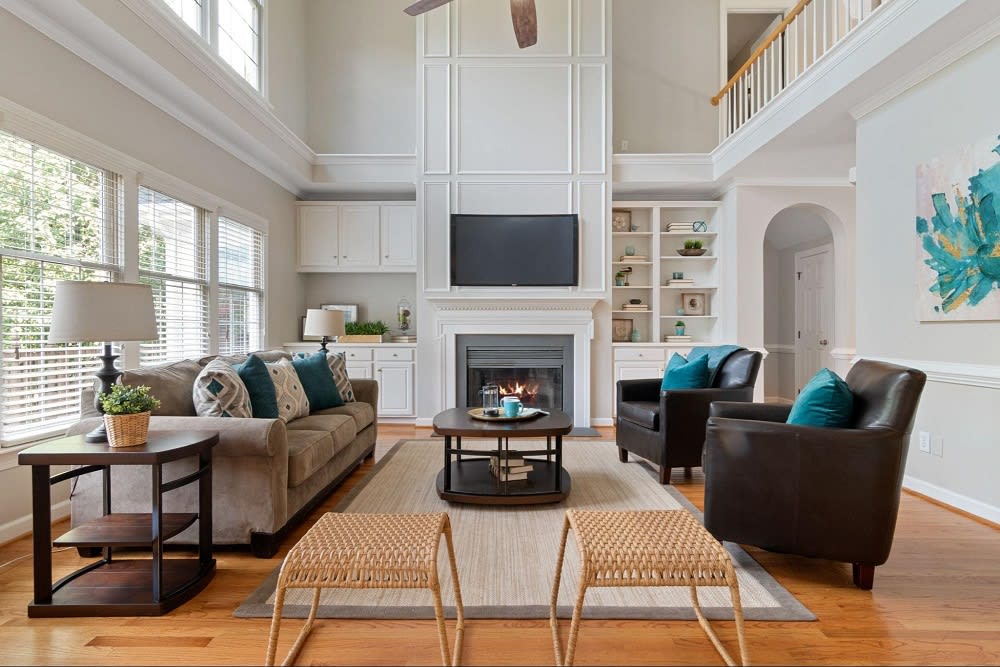 As you prepare to stage a room, you'll, of course, be considering things like the furniture and the color scheme. But another big piece involved in staging is lighting. If a room has bad lighting, it won't fully show off the beautiful living room space that you have to offer. All of your hard work on making your room look so nice could end up not being fully seen without the right lighting to go along with it. A well-lit room also just typically feels more warm, welcoming, and inviting.

There are so many ways you can maximize the lighting in your living room. If you have any windows in the room, you'll want to make sure that you're letting the natural light in.
Selling Preston Hollow real estate?
Now that you know more about the best ways to stage your living room when selling, you might be looking for a real estate agent. If you're interested in selling real estate in Preston Hollow or other Dallas, TX, areas, get in touch with Katherine Roberts.